Free Printable Calendars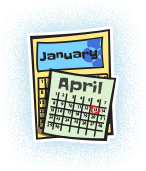 Need free printable calendars for 2015 or beyond? Personalize your monthly, daily, weekly or yearly now! We even offer free printable calendars that are blank so that you can use it for the month of your choice. Stay organized on a day-to-day basis by choosing a daily calendar located in the Daily subcategory.
Choose Customized Calendars and get organized this year! Planning has never been so easy and now you can do it all in the convenience of your very own home. Fully customize any calendar today and then select the print button.