Printable Coloring Pages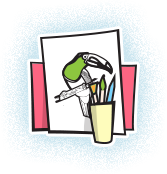 Teach kids how to color within the lines using a wide array of printable coloring pages. Choose from a variety to start coloring the fun in! Your students or children will absolutely love this type of kids activities, coloring within the lines and broadening their creativity with these printable coloring pages. Test one out today, we can even create one just for you. Just contact us!
Have a daughter or neice that loves princess? We even offer princess coloring sheets that we know they will absolutely love. Allow them to color within the lines of their favorite princess from any of the disney movies. This fun activity will have them completely hooked and will be something that they can do for hours on end!